Share your KML / GPX files on NZ Topo Map
NZ Topo Map allows you to overlay your own KML and GPX files on to the map. Handy for sharing your latest tramping adventure route recorded on your GPS device or sharing a route you've planned out for an upcoming trip.
For example, here's a GPX file someone has recorded of the Heaphy Track:
Unfortunately NZ Topo Map can't share files sitting on your C: drive as they're private to you, they need to be sitting somewhere on the internet. Some people are lucky enough to have a bit of free web space somewhere they can use, but for those of you that don't there are a number of services that will host files for you for free. One of my favourites in Dropbox.
Here's the simple steps to upload your file to Dropbox: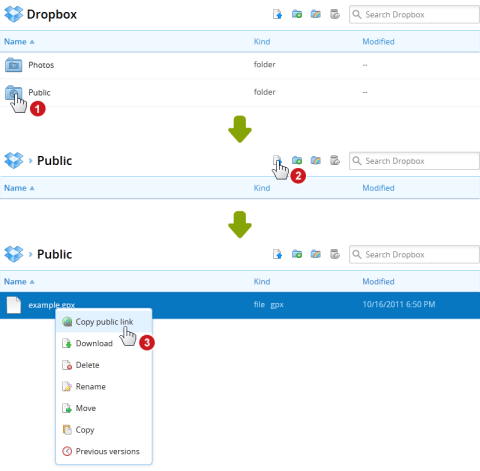 Open your "Public" folder.
Upload your GPX or KML file to the public folder.
Right-click the file to "Copy public link" that you can then use in NZ Topo Map.
Once you have your file publicly available on the internet you can then share it on NZ Topo Map: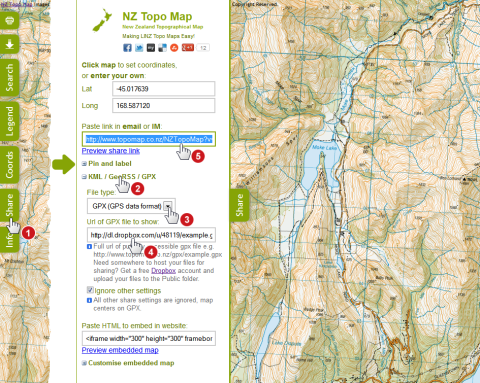 Open the "Share" tab.
Expand the "KML / GeoRSS / GPX" advanced options.
Select the file type you'll be sharing.
Paste in the share link you copied from Dropbox.
Copy the link created in "Paste link in email or IM" to share with your friends. You can also use "Preview share link" below it to make sure it's working correctly.